The Fantasy Backyard Putting Green
The Fantasy Backyard Putting Green kit is an all included kit that gives you everything you need to build your very own backyard putting green. This massive 18′ X 23′ design is sure to turn that boring backyard into any golfers fantasy. Our Backyard putting green kits come with a 5 year warranty for the turf and panels and will last even after the harshest winters. They are easy to install and can easily be moved.
Fantasy Backyard Putting Green features:
Easy to build DIY design
3 – 4″ aluminum cups
Chipping Fringe Included
3 holes included
Polypropylene Copolymer Base
Turf and Base come with 5 Year Warranty
Easy to Install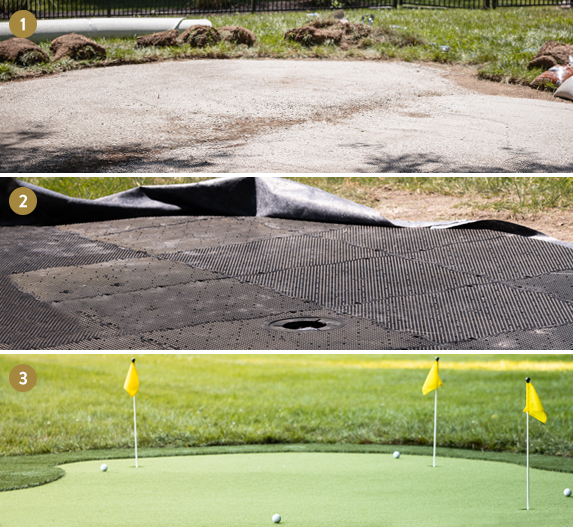 Three Steps to Quick Install
Select or prepare a relatively flat location (no more than 3% slope), utilize compacted stone dust as needed, and install geotextile fabric.
Assemble the Players Series Panel System, placing the pre-drilled cup panels where you would like your hole locations.
Install the cup systems, pre-cut turf and fringe, cut the holes and place flags.
Fringe Turf: XGrass Luxury 1st Cut
Base Panels: Polypropylene Copolymer (Recycled Materials)
Warranty: 5 Years (Turf & Panels); 1 Year (Accessories)
What's Included: Geotextile Fabric, Players Series Base System, Putting Turf, Fringe Turf, (4) 4" Aluminum Cups, (4) Premium Ball Retriever Flags
Need Help with Installation?